Sobre Muchacha
Under the artistic direction of Ainhoa Lafuente, founder of by Muchacha, we are a team of women from diverse disciplines with a range of training and different talents, entranced by the creative possibilities offered by wool.
A creator from La Rioja, Ainhoa lives and works in Tenerife. After experimenting with various materials, she discovered wool that would then become the main material used in her designs and ideas.
Creating objects that bring together contemporary design, practicality and beauty, her innovative vision of artisanship has reinvented and updated the age-old craft of felting.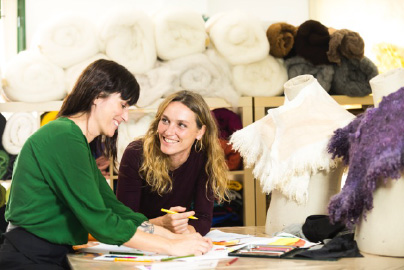 For Ainhoa, artisanal work is an honest and creative way to revive traditional techniques and dovetail them with contemporary art and design movements.
Her personal project has grown to become a commercially successful artisanal design brand.
by Muchacha is rooted in the professional contribution of a group of people who are bound by the same passion.
Numbers and sales strategies are interwoven so that by Muchacha is able to enjoy a happy and profitable journey. We combine heads and hands, letters and colours, words, production and design with textile graphics and cover visual textures with wool.
We also have the support of an excellent graphic design and audiovisual team that works on the image and presentation of our brand.